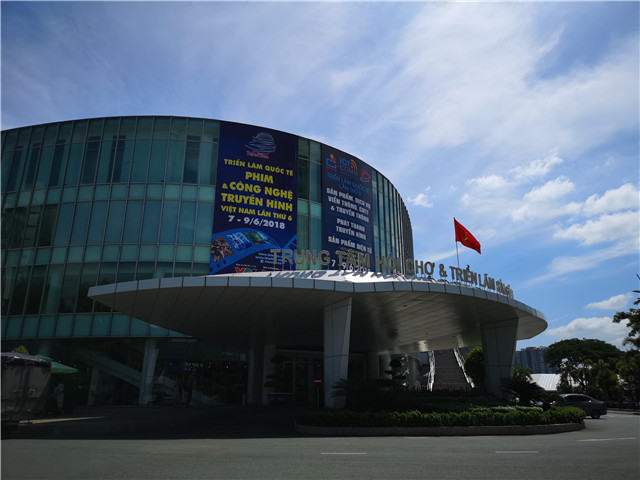 Vietnam International Communication Exhibition 2019
Exhibition Date:
June 6th - June 8th, 2019
Exhibition Period:
Once a year Location: Ho Chi Minh City, Vietnam Saigon Convention and Exhibition Center (SECC)
Organizers:
Vietnam Ministry of Information and Communication, Ministry of Industry and Trade and Vietnam Post Communications Corporation VNPT

Exhibition introduction
The exhibition is jointly sponsored by the Ministry of Information and Communication, the Ministry of Industry and Trade of Vietnam and the VNPT (Vietnamese Zui Telecom Operator) of Vietnam Post Communications Corporation. It is currently the communication professional exhibition of Vietnam's Zui. The exhibitions and summits will be selected at the headquarters of the Vietnamese government ministries and operators, so that government officials, association representatives, local and overseas industry experts will gather to share the new development trend of the Vietnamese communication field and the new market demand. The main audience and buyers are government, state-owned enterprise procurement department officials, communications IT technology, computer accessories and electronic products importers, distribution wholesale and retailers, system integrators, value-added service providers, Internet service providers, satellite operators, radio and television. Operating service providers, business leaders and technology personnel. I have organized companies to participate in Vietnam for many years. I can fully feel that this is a fast-growing, highly dynamic and huge business opportunity. The market can see its huge market potential and feel the temptation of its price. !
Exhibited products and scope
Mainly involved in pan-communication information technology, mobile Internet and IP services, smart terminal products; satellite communications, broadcasting products and entertainment, consumer electronics, electronics manufacturing and related components.
1) Communication IT, information technology products: communication equipment, switches, distribution frames, antennas, transmitters, vehicles, relays, communication accessories and connectors, mobile communication terminal products, power equipment, cables, fiber optic networks, walkie-talkies Data communication, GPS navigator; IC card and smart card technology, storage media; value-added services (SMS/Multimedia message/WAP); satellite communication, radio and television products, digital satellite receiver and other access technologies; inspection and test equipment; wireless Communication technology; security products; billing systems; computers and accessories; information security and network solutions; computer voice integration;
2) Consumer electronics products: smart terminal products, personal electronic products, digital multimedia and video game audio-visual products.
3) Communication electronic components, components and accessories.
Market introduction
China and Vietnam have witnessed rapid economic and trade cooperation in recent years. My electronic information products have always been at the leading position in Vietnam's exports. China is Vietnam's main trading partner. The Vietnamese economy has integrated into the process of global integration and has entered a high-speed development track. Vietnam has a good investment environment and investment projects and has great potential and advantages. Direct foreign investment has grown substantially. Multinational companies are very optimistic about Vietnam's "potential stocks". Japanese, Korean and Taiwanese companies believe that Vietnam is the best investment destination for Southeast Asia in the next 10 years.
Vietnam has a population of about 93 million, with men accounting for 49.6% and women accounting for 50.4%. The urban population accounts for 33% and the rural population accounts for 67%. Vietnam is a developing country. After economic reforms in 1986, Vietnam's economic growth momentum was very strong, so Vietnam's economic situation is very stable and healthy. But the overall level is relatively low. For some historical reasons, in contrast, southern Vietnam is better overall than the northern economy, such as infrastructure and infrastructure. The Internet penetration rate in Vietnam is relatively low, only about 40%, or about 37.2 million. Vietnam's mobile Internet penetration rate is about 34%, nearly 34 million; 75% of mobile Internet users in Vietnam are male, which is a high value for Southeast Asia. The penetration rate of mobile phones in Vietnam is as high as 140%, reaching 140 million units; the number of smartphones is 22 million+, and the penetration rate of smartphones is 23.25%.
The Vietnamese government hopes to upgrade the country to a strong IT and communications technology. In 2010-2020, Vietnam will invest $8.5 billion to develop information and communication technologies to make Vietnam a strong information and communication technology country. The International Telecommunication Union ranks Vietnam as a After China, the growth of the tei market is fast.
Vietnam has a continuous market demand for various consumer electronics products, and it is difficult for Vietnamese enterprises to meet the market needs of equipment and production capacity. Many of China's early companies that participated in the Vietnam Communication Exhibition with our company have also achieved impressive market performance in Vietnam. China's various types of communication and digital consumer products are popular in the Vietnamese market due to their good performance and reasonable price.
Our company
Topstar
will also participate in the event, so there are partners who can participate in the following contact information to communicate with us.

About us
We "TopStar",are one of the leading manufactures of Fiber Optical transsceivers.

Contact us
Tel: +86 755 8255 2969
Email:lisa@topsfp.com
Skype: lisalin6565
Whatsapp: +86 13798265065
Wechat: 251081707
Facebook and Linked in: Topstar Technology Industrial Co., Ltd